English below
HeadFirst Group klimt naar de tweede plek in de deze week gepubliceerde Flexmarkt Omzetranglijst Top-100 2020, waarin de honderd grootste flexbedrijven van Nederland zijn opgenomen op basis van hun omzet in 2019. Waar we vorig jaar voor het eerst de top 3 behaalden en de grootste groeier waren in de flexmarkt, bereiken we met de tweede plek een nieuwe mijlpaal. Met een omzet van ruim 1 miljard zijn we met trots de grootste – en groeiende – intermediair en MSP-dienstverlener van de Benelux.
De Flexmarkt Omzetranglijst Top-100 is een prestigieuze lijst, waar bedrijven in de flexmarkt elk jaar reikhalzend naar uitkijken. Mike Korenvaar, CFO bij HeadFirst Group: "Deze lijst maakt visueel welke reuzenstappen wij als organisatie zetten. Vorig jaar hebben we een organische groei doorgemaakt van ruim EUR 100 miljoen, een toename van 13% ten opzichte van 2018. Een ongekende prestatie in een jaar dat, na twee acquisities, mede in het teken stond van operationele integratie van werkwijzen en locaties in Utrecht, Rotterdam en Hoofddorp en de migratie van de verschillende IT-systemen. Dat maakt mij enorm trots."
Coronacrisis krijgt inhuurmarkt niet klein
Toch is het bijzonder om terug te kijken op cijfers van 2019, terwijl we ons momenteel midden in de coronacrisis bevinden. De economie staat flink onder druk, wat vanzelfsprekend ook zijn impact heeft op de inhuur van flexibele arbeid. Gert-Jan Schellingerhout, CEO bij HeadFirst Group, vertelt over zijn beeld: "We zagen dat het aantal nieuwe inhuuraanvragen in maart snel daalde. Ook heeft de pandemie zijn invloed op het aantal gewerkte uren van de 12.000 professionals die via ons bij opdrachtgevers werken. We mogen echter overall zeggen dat de impact voor ons tot op heden beperkt is gebleven. Het type professional dat wij bemiddelen, veelal hoogopgeleide kenniswerkers en vaak werkzaam in bedrijfskritische processen in organisaties, kan zijn werkzaamheden bij onze opdrachtgevers grotendeels op afstand uitvoeren. En we hebben een goede, gezonde spreiding van opdrachtgevers in verschillende branches, waaronder veel overheidsorganisaties die een stabiele inhuurder zijn gebleven."
Deze constateringen geven een licht positief vooruitzicht. Schellingerhout: "Ondanks de corona-pandemie en een aantal onzekerheden zetten wij onze groei- en overnamestrategie voort. Zoals we zijn, ondernemend en hardwerkend, zetten we alle zeilen bij om van het jaar 2020 toch nog het feestjaar te maken dat we vanwege ons 25-jarig bestaan origineel voor ogen hadden."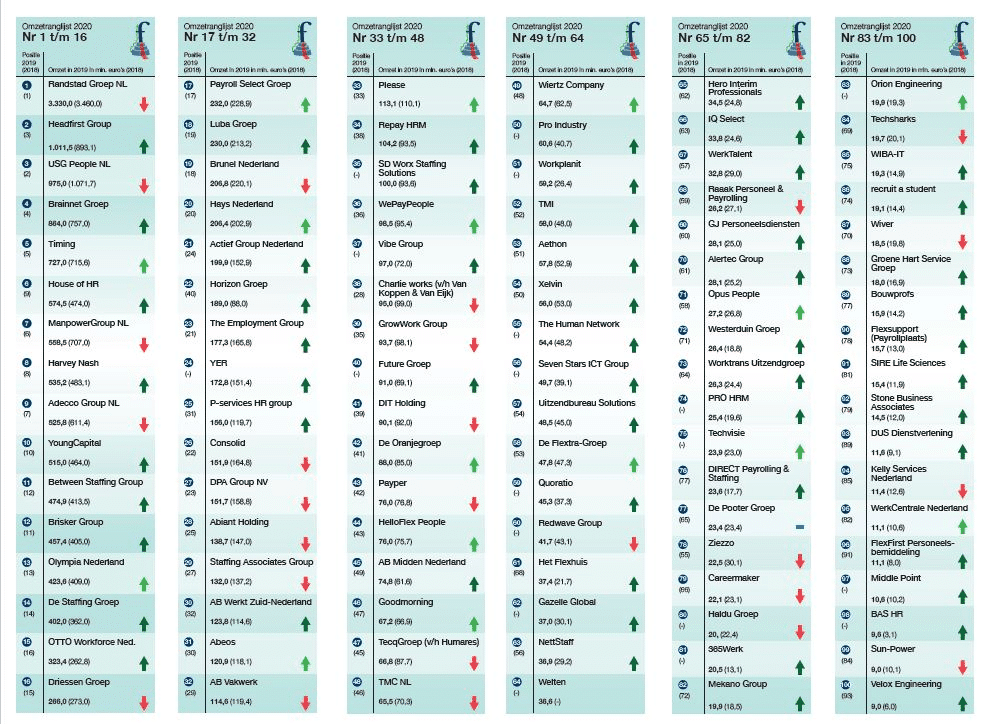 Bron: flexmarkt.nl
Over Flexmarkt Omzetranglijst Top-100
De Flexmarkt Omzetranglijst geeft een overzicht van flexbedrijven, van klein tot groot, met uiteenlopende vormen van dienstverlening in personeelsbemiddeling en -inhuur. Naast uitzendbureaus, staan er ook tal van payrollbedrijven in, net als detacheringsbedrijven, zzp-bemiddelaars en MSP-dienstverleners. De Flexmarkt Omzetranglijst Top-100 wordt jaarlijks gepubliceerd door Flexmarkt in samenwerking met Corporate Finance International (CFI). Deze toonaangevende ranglijst beslaat qua omzet ruim de helft van de totale Nederlandse flexbranche en geeft daarmee een helder, representatief beeld van de ontwikkelingen in de markt.
Over HeadFirst Group
HeadFirst Group is marktleider in de Benelux op het gebied van het professioneel organiseren van externe inhuur. De organisatie biedt een diversiteit aan flexoplossingen, waaronder contracting, payrolling, matchmaking, global sourcing, Managed Service Providing en business consultancy. Op dit moment werken dagelijks meer dan 12.000 professionals bij ruim 200 opdrachtgevers in Europa, waarmee HeadFirst Group een jaaromzet realiseert van meer dan 1 miljard euro. Onderdeel van HeadFirst Group zijn de organisaties HeadFirst, Myler, Staffing Management Services, Source, Pitch Payroll en Select.
Voor nadere informatie
Heeft u vragen of opmerkingen naar aanleiding van dit bericht? Neem contact op met Bart van der Geest, manager marketing & communicatie bij HeadFirst Group, te bereiken op 023 – 568 56 30 of bart.vandergeest@headfirst.nl.
---
HeadFirst Group rises to second place in Flexmarkt Turnover Ranking
HeadFirst Group climbs to second place in this week's published Flexmarkt Turnover Ranking Top-100 2020, which includes the hundred largest organizations in the flexible labour market in the Netherlands based on their turnover in 2019. Last year we reached the top 3 for the first time and were we the biggest grower in the flex market. This year we reach a new milestone with the second place. With a revenue of more than 1 billion euros we are proud to be the largest – and growing – intermediary and MSP-organization in the Benelux.
The Flexmarkt Turnover Ranking Top-100 is a prestigious list, which companies in the flexible labour market eagerly look forward to every year. Mike Korenvaar, CFO at HeadFirst Group: "This list shows the giant steps we take. Last year we experienced an organic growth of over 100 million euros, an increase of 13% compared to 2018. An unprecedented performance in a year which, after two acquisitions, was partly dominated by operational integration of working methods and locations in Utrecht, Rotterdam and Hoofddorp and the migration of the various IT systems. That makes me enormously proud."
Corona crisis will not bring the hiring market down
Still, it is special to look back on figures from 2019, while we are currently in the middle of the corona crisis. The economy is under considerable pressure, which of course also has an impact on the hiring of flexible labour market. Gert-Jan Schellingerhout, CEO at HeadFirst Group, talks about his view: "We saw that the number of new hirings decreased rapidly in March. The pandemic also has an impact on the number of hours worked by the 12,000 professionals who work for clients via us. Overall, we can say that the impact for us has remained limited to date. The type of professionals we mediate, mostly highly educated knowledge workers and often working in business-critical processes in organisations, can carry out their work for our clients remotely. And we have a good, healthy spread of clients in various sectors, including many government organizations that have remained stable hirers".
These observations give a slightly positive outlook. Schellingerhout: "Despite the corona pandemic and a number of uncertainties, we are continuing our growth and acquisition strategy. Entrepreneurial and hardworking as we are,  we are doing everything in our power to make the year 2020 the festive year that we originally had in mind because of our 25th anniversary".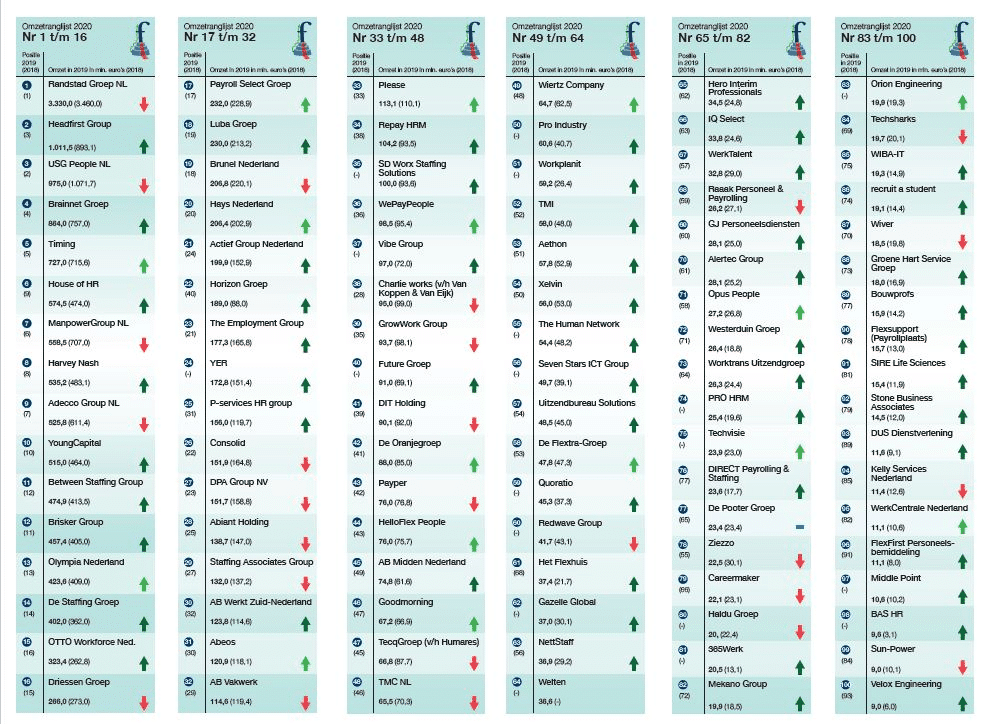 Source: flexmarkt.nl
About Flexmarkt Turnover Ranking Top-100
The Flexmarkt Turnover Ranking gives an overview of flex companies, from small to large, with various forms of personnel mediation and hiring services. In addition to temporary employment agencies, it also includes numerous payroll companies, as well as secondment companies, freelance-intermediaries and MSP service providers. The Flexmarkt Turnover Ranking Top-100 is published annually by Flexmarkt in cooperation with Corporate Finance International (CFI). In terms of revenue, this leading ranking covers more than half of the total Dutch flexible labour sector and provides a clear, representative picture of developments in the market.
About HeadFirst Group
HeadFirst Group is market leader in the Benelux in the field of professional organization of external hiring. The organization offers a variety of flexible hiring solutions, including contracting, payrolling, matchmaking, global sourcing, Managed Service Providing and business consultancy. Currently more than 12,000 professionals work daily for more than 200 clients in Europe, with which HeadFirst Group realizes an annual turnover of more than 1 billion euros. HeadFirst Group includes the organizations HeadFirst, Myler, Staffing Management Services, Source, Pitch Payroll and Select.
For further information
Do you have any questions or comments about this message? Please contact Bart van der Geest, manager marketing & communication at HeadFirst Group, at +23 568 56 30 or bart.vandergeest@headfirst.nl.
https://www.staffingms.com/wp-content/uploads/2019/03/StaffingManagementServicesHFG2-300x99.png
0
0
Esmee Ouwehand
https://www.staffingms.com/wp-content/uploads/2019/03/StaffingManagementServicesHFG2-300x99.png
Esmee Ouwehand
2020-06-12 11:45:33
2020-09-01 08:08:57
HeadFirst Group stijgt naar tweede plek in Flexmarkt Omzetranglijst